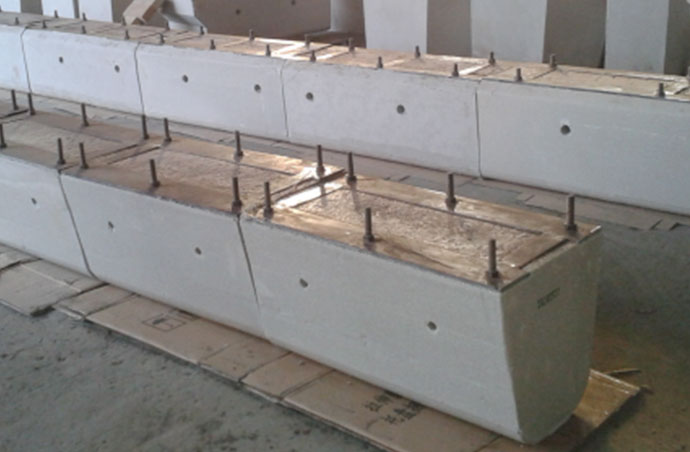 Coke Oven Refractory Products
WHO WE ARE :
We not only provide the best service to World Top 500 Enterprises , also to YOU .
We can accept the Payment Term : LC 120 DAYS , D/P 90 DAYS, D/A-O/A 60 DAYS .
We have more 100 items Chinese National Patents .
Our Lab is Hennan province Refractory Engineering T&R Center
Our Tech Team include : PROFESSOR , DOCTORAL SUPERVISOR , SENIOR ENGINEER, EXPERT.
Our Project Team have rich experience for international Refractory Turn-Key Project .
We are not only to supply refractory products to YOU , We also want to share the KEY TECH with YOU.
Technical instructions
Our company optimize structural design, assembly techniques, preventing carbon layer processing, maintenance technology and coating material, to develop the coke oven door precast brick lining, using high-quality synthetic refractory materials, add special additives, the gas hole and inflation rate is low, thermal shock stability . 
The precast brick with advantages of good thermal stability, excellent resistance to abrasion and erosion, as well as long work life, insure the long time stable production, life can reach 5 – 6 years . 
Compare standard size brick & precast brick 
life

Precast brick 3-5 years

Standard size brick 1-1.5 years

Reduce the number of maintenance, improve the utilization rate of coke oven, reduce labor costs, save material costs, prolong the service life. 

 energy conservation

The temp of the coke oven , can be lower 50'C than the standard size brick coke oven brick  

Improve the  temperature, shorten the distillation time, prolong the service life of the door.

environmental protection

 Easy to Control the  coke tar and coke dust come out from the door

To solve the smoke, dust and gas leakage problems; to prolong the service life, reduce maintenance and repair. 

Fast installation

Fast installation and maintain 

To reduce the labor intensity of the maintenance personnel; carbonization rate is greatly improved 
Technical Parameters
Name

Precast brick

Cover brick

riser zone precast brick

chem%

Al2O3

≥50

≥45%

≥45

BD

g/cm3

110℃×24h

≥2.1

≥2.15

≥2.1

CCS MPa

110℃×24h

≥50

40

≥60

1200℃×3h

≥70

50

≥50

MOR MPa

110℃×24h

≥5.5

≥5

≥5.5

1200℃×3h

≥4.5

≥6

≥4.5

PLC %

1200℃

≤±0.5

≤±0.5

≤±0.5
Get In Touch
Send on email.all fields width on * are required. Please enter your question and contact information.we will get back to you as soon as possible!.