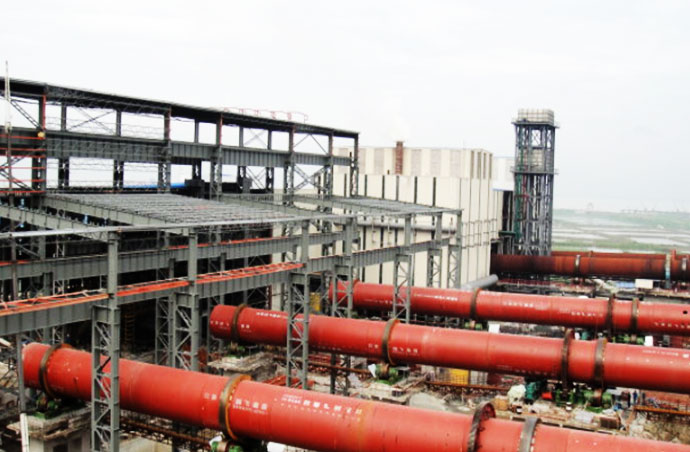 Ferro-Nickel Rotary Kiln Refractory Products
WHO WE ARE :
We not only provide the best service to World Top 500 Enterprises , also to YOU .
We can accept the Payment Term : LC 120 DAYS , D/P 90 DAYS, D/A-O/A 60 DAYS .
We have more 100 items Chinese National Patents .
Our Lab is Hennan province Refractory Engineering T&R Center
Our Tech Team include : PROFESSOR , DOCTORAL SUPERVISOR , SENIOR ENGINEER, EXPERT.
Our Project Team have rich experience for international Refractory Turn-Key Project .
We are not only to supply refractory products to YOU , We also want to share the KEY TECH with YOU.
Technical instructions
Rotary kiln is one of the key equipment in  mineral hot furnace RKEF process.  the rotary kiln operation rate depend on the refractory working layer and refractory materials & installation quality .  
Our company optimize the old refractory working layer design ,use the precast brick and castable to instead of the standard brick design and castable layer design. our refractory layer design has the advantages of: (1)the refractory layer will be better integrated intensity than the old one; (2) easy to control the quality of installation process ; (3) installation process without mould, convenient operation, basic cost can be saved; (4)  the installation process date can be controled less than 25 days.  
The rotary kiln refractory layer design and specialized research and development of refractories of our company, better than the old refractory design, the service life is twice as long as the old one . Our company has successfully applied for the patents :
1 . Steel fiber castable (HD-NMJ60): used at the rotary kiln feed inlet and the preheating zone, which has good abrasion resistance.
2 high strength steel fiber castable (HD-NMJ65): used at the transition zone of the rotary kiln, the product characteristics of good abrasion resistance, high density.
3.The anti knot ring material (HD-FK-1): used at the rotary kiln sintered zone, the product characteristic is good for anti ring and anti stripping performance, good compressive strength, good wear resistance.
4. The kiln mouth special castable( HD-YZ-1) for rotary kiln feed outlet and high temperature with retaining ring material zone, the characteristics are good anti erosion, thermal shock stability is superior, abrasion resistance and compressive strength.
Technical Parameters
ITEM

 

SPEC

HD-NMJ60

HD-NMJ65

HD-FK-1

HD-YZ-1

Al2O3

%

60

65

70

70

MOR

110℃×24h

MPa

6

7

8

8

1150℃×3h

8

9

10

10

CCS

110℃×24h

MPa

50

60

70

70

1150℃×3h

70

80

90

90

BD

110℃×24h

g/cm3

2.4

2.5

2.6

2.6

PLC 

110℃×24h

%

±0.1

±0.1

±0.1

±0.1
Get In Touch
Send on email.all fields width on * are required. Please enter your question and contact information.we will get back to you as soon as possible!.