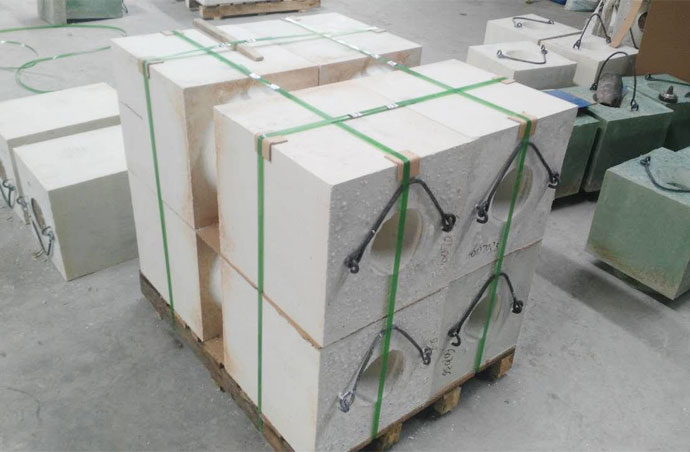 Ladle Well/Setting Brick For Porous Plug
WHO WE ARE :
We not only provide the best service to World Top 500 Enterprises , also to YOU .
We can accept the Payment Term : LC 120 DAYS , D/P 90 DAYS, D/A-O/A 60 DAYS .
We have more 100 items Chinese National Patents .
Our Lab is Hennan province Refractory Engineering T&R Center
Our Tech Team include : PROFESSOR , DOCTORAL SUPERVISOR , SENIOR ENGINEER, EXPERT.
Our Project Team have rich experience for international Refractory Turn-Key Project .
We are not only to supply refractory products to YOU , We also want to share the KEY TECH with YOU.
Technical instructions
Hongda Molten Steel Refining Porous Plug is characterized by their high strength,
good erosion resistance and corrosion resistance, high blowing rate and good safety.
They are widely used for continuous casting ladles and refining ladles.
Type of Ladle Porous Plug:
There are many types and forms of Ladle Porous Plug, which can be roughly divided into: diffused type, through-hole type, and slit type.
The dispersion type and the slit type are mostly produced by machine pressure and firing.
Straight through-hole ventilated bricks are often formed by vibration casting and by means of reserved holes.
The Ladle Porous Plug Feature:
1.Stable air permeability,
2.The production process is simple,
3.Brick strength is high,
4.long lasting,
5.Good security
Technical Parameters
ITEM

HHD-TQZ1

 HD-TQZ2

chem

 Al203+Cr203(%)

≥

  95

 93

  BD (g/cm3)

1500℃×3h 

 3.2

3.0

MOR(Mpa)≥

1500℃×3h 

 15

12

 CCS

(MPa)  ≥

110℃×24h 

40

45

1500℃×3h 

100

 90

PLC   (%),≤

1500℃×3h

± 0.5

± 0.5 

 气体流量

(NL/min)

(0.2-0.8MPa)

300-800

 300-800
Get In Touch
Send on email.all fields width on * are required. Please enter your question and contact information.we will get back to you as soon as possible!.