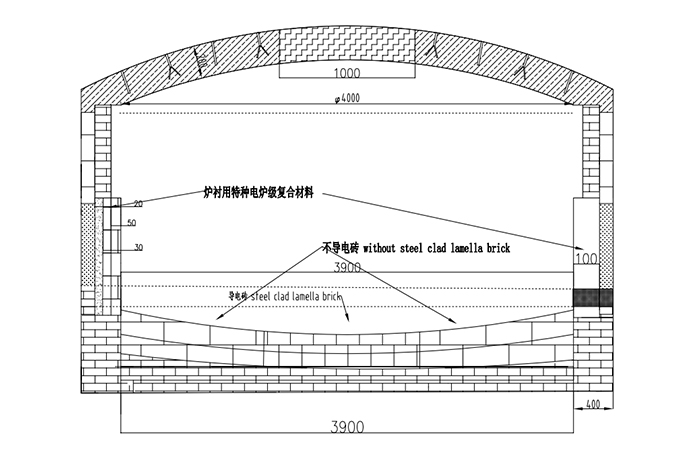 Plasma / DC arc furnace refractory material
WHO WE ARE :
We not only provide the best service to World Top 500 Enterprises , also to YOU .
We can accept the Payment Term : LC 120 DAYS , D/P 90 DAYS, D/A-O/A 60 DAYS .
We have more 100 items Chinese National Patents .
Our Lab is Hennan province Refractory Engineering T&R Center
Our Tech Team include : PROFESSOR , DOCTORAL SUPERVISOR , SENIOR ENGINEER, EXPERT.
Our Project Team have rich experience for international Refractory Turn-Key Project .
We are not only to supply refractory products to YOU , We also want to share the KEY TECH with YOU.
Technical instructions
  公司于2021年与郑州大学高温研究所,东北大学冶金系,针对国内现阶段高温超高温熔炼炉现状,联合成立超高温冶炼炉技术创新战略联盟,针对超高温熔炼电弧炉在危废处理,富集贵金属,活泼金属提炼等领域面临的重大技术课题展开联合研究,填补部分领域的国内空白。形成具有自主知识产权的产业标准、专利技术和专有技术,加速推动超高温冶炼炉相关技术的产业化运用。
in 2021 henan hongda and Zhengzhou university - high temperature R&D center , northeastern university - metallurgy college , at the current domestic high temperature & ultra- high temperature melting furnace, jointly set up high temperature smelting furnace technology innovation strategic alliance, for ultra- high temperature melting arc furnace in hazardous waste treatment, rich precious metal collect , lively metals refining etc ,which has the key tech problem to Launch a joint study & research, to fill some tech gaps in this field of domestic market.To form industrial standards, patented technologies and proprietary technologies with independent intellectual property rights, and accelerate the industrial application of technologies related to ultra-high temperature smelting furnace.
  结合贵司炉型设计以及相关炉衬设计要求。我方设计思路如下:
Combined with your furnace type design and related furnace lining design requirements.Our design ideas are as follows:
  1、由于处理物为飞灰、危废残渣,其化学成分复杂,含有毒性高、易致癌和污染大的重金属、盐、二噁英等,如不进行严格而科学的管理,将对土壤和水质造成几乎无法修复的污染。熔融炉的工艺温度较高(>1400℃ ),耐材损坏的主要方式为侵蚀、熔损,要求炉衬材料的耐蚀性,抗侵蚀性能,选用气孔率低、耐酸碱侵蚀性能好的材料。
Because the treated materials are fly ash and hazardous waste residue, their chemical composition is complex, containing heavy metals, salts and dioxins, which are highly toxic, carcinogenic and polluting. If not strict and scientific management, it will cause almost irreparable pollution to the soil and water quality.The process temperature of melting furnace is high (> 1400℃), and the main ways of material damage resistance are corrosion and melting loss, requiring corrosion resistance and corrosion resistance, and selecting materials with low stomatal rate and good acid and alkali corrosion resistance.
  2、残渣在高温熔融状态下,部分化学成分易转变为活泼性金属或强氧化物,可与无机非金属物质产生反应,在高温下生产液相,由于耐火材料本身为无机非金属材料,故在熔炼炉工作过程中存在活泼金属或强氧化物于耐材本体,能反应生成低温液相。
Residues in high temperature melting state, part of the chemical composition is easy to change into active metal or strong oxide, can react with inorganic nonmetallic substances, produce liquid phase at high temperature, because the refractory itself is inorganic nonmetallic material, so in the process of active metal or strong oxide in the resistant material body, can generate low temperature liquid phase.
  3、飞灰、危废残渣冶炼时间长,熔融炉需要较长时间冶炼,持续保持在高温状态,局部耐材易被飞灰和残渣侵蚀、熔损。
The smelting time of fly ash and hazardous waste residue is a long time, melting furnace needs a long time to smelting, keep in a high temperature state, the refractory material layer is easy to be eroded and damaged by fly ash and residue.
  4、飞灰、残渣在熔融状态下,具有一定的粘稠度,在热辐射区域内有较好流动性,超出一定区域后溶液粘度迅速加大。在耐材的工作层形成结圈层,在熔炉出料和加料后,炉温下降后容易产生收缩剪切应力,对耐材层形成应力破坏。
In the melting state, the fly ash and residue have a certain viscosity and a good fluidity in the thermal radiation area, and the viscosity increases rapidly out of the thermal radiation zone.at the hot face layer of the refractory layer, it will be easy to make one slag layer , in the furnace feeding and tapping process , the furnace temperature will be have a fast temp change , the slag layer will be have the shrinkage shear strain , to damage the refractory layer.
  5、我方根据炉型不同部位使用的工况环境不同,提出不同材质以满足炉型运行要求。
We propose different materials to meet the operation requirements of the furnace type according to the different parts of this furnace .
  6、特别针对熔炼炉下侧墙以及水冷壁(渣区)等位置,我采用过多种材料复合砌筑方案,通过多种高纯材料再复合,在不降低原有材料的耐火性能的前提下,结合各个材料的优势,通过对特殊部位的强化处理,以及多层物理复合工艺,解决了在高温熔池内部中活泼、强氧化物、强腐蚀性溶液与耐火材料反应、氧化侵蚀的问题。
Especially for melting furnace side wall and water cooler wall (slag area), we use the variety of material composite masonry scheme, through a variety of high purity material recombination, on the premise of not reducing the refractoirness of the original material, combined with the advantages of each material, through the strengthening treatment of special parts, and multi-layer physical composite design layers, to handle the high temperature melting zone lively metal, strong oxide, strong corrosive liquid have the reaction with refractory layer .
Technical Parameters
Item  

炉盖浇注料

Roof castable

Delta 区浇注料

Delta zone castable

铝铬砖

AL-CR BRICK

(CR 15-30)

镁铬砖

MGO - CR BRICK

复合导热砖 

RERACTORY BLOCK

导电砖

with steel clad brick

不导电砖

without steel clad brick

TD

AL2O3 : > 75

BD:2.65

AL2O3 + Cr2O3 > 90

BD : 2.9

AL203 - Cr2O3 -15- 30  

BD : 3.45

Cr2O3 : 15-30

AL2O3 : 68

MgO : 60

Cr2O3 :15

BD : 3.1

AL+C : 90

BD : 2.9

MC - 15

BD : 3.0

CCS : 45 MPA

AM

BD :3.3

CCS : 45 MPA
Get In Touch
Send on email.all fields width on * are required. Please enter your question and contact information.we will get back to you as soon as possible!.