carbon brick
WHO WE ARE :
We not only provide the best service to World Top 500 Enterprises , also to YOU .
We can accept the Payment Term : LC 120 DAYS , D/P 90 DAYS, D/A-O/A 60 DAYS .
We have more 100 items Chinese National Patents .
Our Lab is Hennan province Refractory Engineering T&R Center
Our Tech Team include : PROFESSOR , DOCTORAL SUPERVISOR , SENIOR ENGINEER, EXPERT.
Our Project Team have rich experience for international Refractory Turn-Key Project .
We are not only to supply refractory products to YOU , We also want to share the KEY TECH with YOU.
For applications such as Ferro-silicon, industrial Silicon and Carbide, we recommend our insulation concept lining structure (shown in the illustration below). In this structure, the working layer utilizes carbon materials, the permanent layer uses high-alumina or clay bricks, and under the bottom and the outside uses insulation materials. The advantages of this structure include:
The semi-graphite blocks have proven to have good erosion resistance and good overall structure strength.
The high-alumina bricks in the permanent layer are oxidation-resistant and erosion resistant.
Products such as Carbide, Ferro-silicon, have higher melting point. The insulation layer reduces the thermal loss, increases the temperature of the molten metal and reduces the workload on the exhaust system.
Overall this structure is able to provide higher temperature in the furnace working area and also prevent furnace bottom infiltration.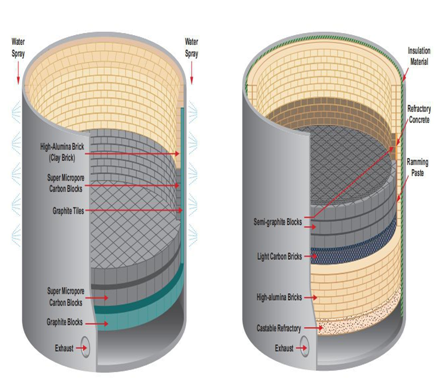 carbon brick : 
C > 90 ; 
Ash < 8,
BD> 1.65 G/CN3
size : 400 - 900 * 400 - 1100
Get In Touch
Send on email.all fields width on * are required. Please enter your question and contact information.we will get back to you as soon as possible!.